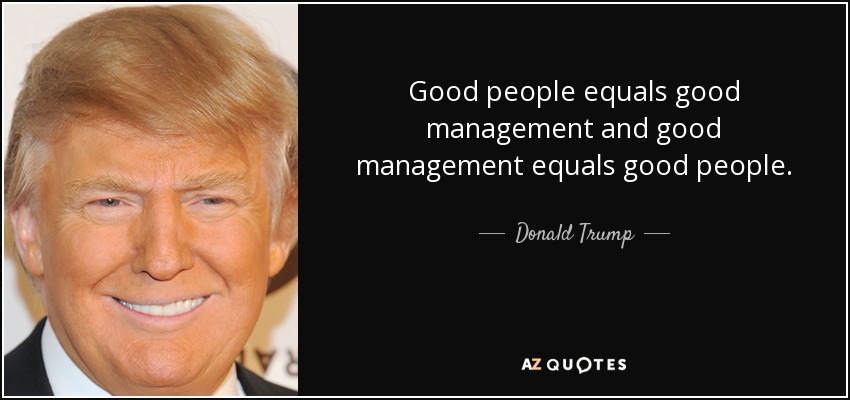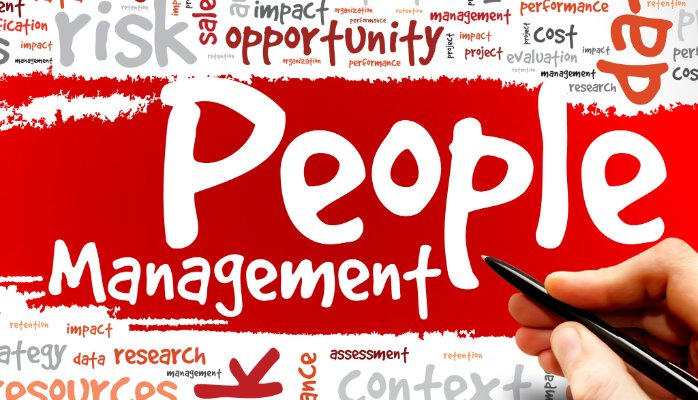 Truth be told! Donald J. Trump is a successful businessman.
The company he founded, The Trump Organization is one of the most successful real estate companies in the world worth over $ 3 billion. Over the years, he became very successful in business, went into billions of debt, paid back his debts and become mega successful!
Well, so there is something worth learning from him. Right?
I've bought a book written by him entitled, "Think Like a Champion!"
It's really a great book I recommend every rising and seasoned business person to read it. The book teaches you how to succeed in business and real life. More importantly, it teaches how to manage and deal with people wisely.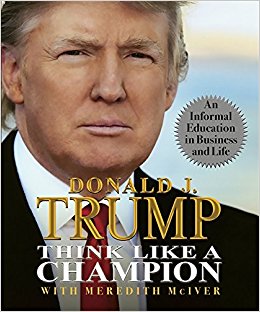 After going through some rough time with dealing with some customers and workers of mine, I retarded to read a chapter in the book, "Get the Best People You Can."
In this chapter, I learnt 10 people management tips which have changed the way I deal and handle people. I've also realized that business is easy, but the hardest part is dealing with people. And when you become successful in dealing with people, you'll be successful in business.
These 10 people management tips are not just lessons for me. They are my people management rules. I would like to call them, "Trumps Rule for Dealing With People." I've learnt them the hard way, but his book have crystallize them for me.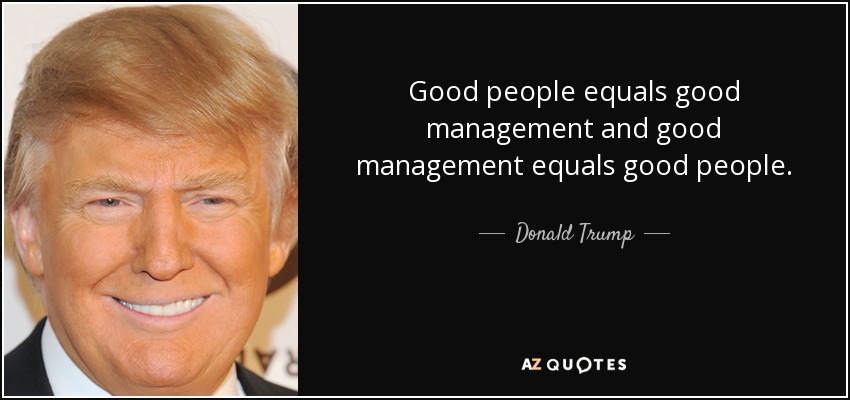 Here you are now with the 10 people management lessons from Donald Trump.
Lesson#1:
Watch what people do against what people say.
Lesson#2:
Every new hire is a gamble.
Lesson#3:
There's simply no guarantee when it comes to people.
Lesson#4:
Watching people in action is the real proving ground of their true personality and credentials.
Lesson#5:
To remain a leader, you must know your people. One quality of a leader is the ability to know his people.
Lesson #6:
Be paranoid and circumspect when it comes to trusting people. Never expect everything and never expect everything to be easy.
Lesson#7:
You set yourself up for nasty surprises when you trust people too much.
Lesson#8:
Don't take people for granted and expect the same.
Lesson#9:
The true colors of people does not surface quickly, it takes time to show up.
Lesson#10:
Share, train and groom people who are really motivated to know more, to do more and to improve the quality of their minds and lives.
Hey there, which of these people management lessons resonate well with you? Which do you agree with and which do you disagree with? Do you have any personal experience? Share below!
Outsource Your SEO Copywriting
Whether you are a blogger, web designer, SEO agency, I can help you with all your SEO copywriting. You'd be really shocked about the quality of work that you would get.  Over the years, I have refined the content writing process and developed a system of getting the job done right.
You can trust your content is in the right hands and the job is going to be done well. Outsource all your content writing services to me. Please, let me help you to get the job done right. The following are some of the areas that I can help with your content writing services.
Bulk SEO Articles
Product Description Writing
Company Profile Writing
Web Content Writing
"About Page" Writing
Press Release Writing
Blog Writing
Sales Page Writing
Content Re-writing
Landing Page Writing
Article Submission Services
Get in Touch Now
I look forward to hearing from you soon.
Please get in touch today with all your web and SEO copywriting needs. No matter the size of the project, I have the expertise to deliver.
Thanks a million.
Cheers! And Keep Moving Forward!
I'd Love to Hear from You
Email: [email protected]
WhatsApp: +233 548334499
Facebook: https://www.facebook.com/sabutey.francis
Website: https://www.expandgh.comk
Subscribe for business development and digital marketing insights, tips and strategies to grow your business.