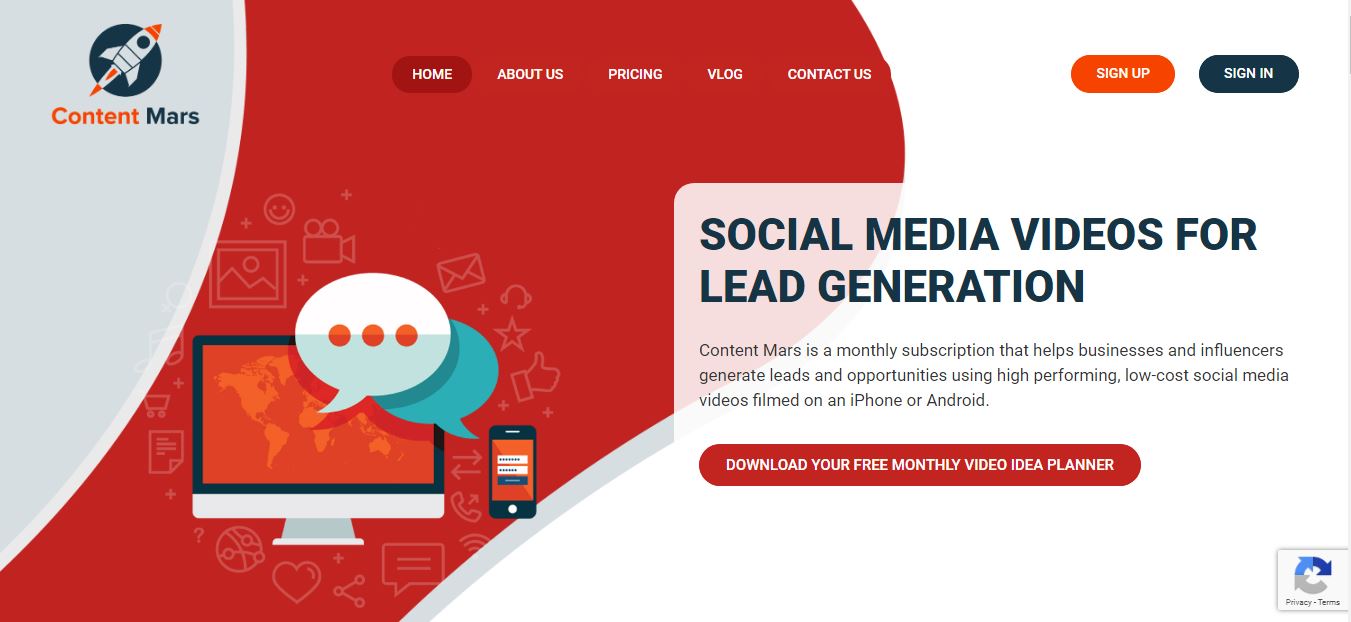 Recent industry reports have revealed that video is dominating as the best content marketing strategy to increase brand awareness, generate leads and grow sales for businesses.
Video content gets viewed 48% and shared 1200% more respectively, than text and image combined. It is no wonder that a whopping 93% of video marketers say that they have landed a client through videos.
About Content Mars
Armed with this mind-blowing statistics about how video is performing in the global content marketing space, Content Mars, a leading video-marketing company has taken the initiative to develop a platform that makes it easy, convenient, and simple to create high-performing videos for all kinds businesses. Their videos are focused on helping thousands of brands and influencers across the world to generate and convert leads.
They offer a monthly video marketing subscription where their expert team works with clients of all sizes to create high-performing videos at low-cost, filmed on an iPhone or Android. They provide hands-on-guidance through the process of planning, publishing and performance review. To ensure they deliver consistent quality to clients, Content Mars follows a simple process to get all jobs done.
How Content Mars Works
It all starts with training clients on how to film high-quality footage using an iPhone or Android. Their how-to-explainer video shows exactly how to turn an iPhone or Android into a movie production system. Once the raw footage has been filmed, it is uploaded to the assigned personal videographer team at Content Mars.
After that, the videography works on raw footage, editing, providing all kinds of sound and color effects to ensure that the video meets the preferred standard of the target audience. Thus, the raw footage is converted into a high-performing, lead generating social media video that can be shared several times to go viral. Upon review and approval from the client, the video is posted on the annotated social media platform.
Unlike many video production firms that specialize in just producing videos, Content Mars goes above and beyond to provide tracking, reporting and performance reports on the video. Using key insights from tracking, future videos are then reworked, tweaked and reframed to get better results for the clients. Using this simple process, Content Mars has wowed several businesses with their video marketing services.
Service Pricing & Packages
Content Mars tries to make the video marketing service very affordable for brands and influencers. In view of this, they offer subscription-based services at a lower price. Service packages include the following: Jet Pack, Boosters, Rocket Ship and Space Station.
The Jet Pak is for those looking to start using video to grow their brand, priced at $ 1,999; the Boosters offer upgraded services to growing businesses, priced at 3,999; the Rocket Ship provides growing teams with additional support and premium services to get better and faster results; Space Station is designed for agencies to scale up their operations without having to worry about the content creation for clients.
What We Love About Content Mars
To further provide increased-value to the general public, Content Mars is currently building a resource center on its platform. Through this learning center, they provide highly educational guides, hacks, and tricks on how to use video to 10x brand awareness, leads and sales for businesses.  
Since their service is highly interactive, they provide 24/hr support via email, Slack, phone and website to handle any kind of challenge a client might face while going through the process of planning, producing and promoting their videos on social media.
The team is friendly, responsive and quick in providing answers to questions of clients. They provide unlimited revisions with a fast turnaround, between 24-hours to 5 days depending on the size of the video. Each client has a dedicated videographer matched to meet the unique skillset and needs of the video. A dedicated manager is also allotted to ensure that all projects are done excellently and in order.
What We Would Love to See in Content Mars
In spite of all the strengths of Content Mars, it is important to note that Content Mars does not directly manage clients' social media platforms. Also, they don't create the raw footage for clients even though they use a lot of royalty-free images to make all videos look nice and attractive. They only work with clients to create high performing videos at the lowest price possible.
Conclusion:
What videos are created? Explainer videos, video tutorials, video presentations, video testimonials, video recordings for live streaming, product launch videos, demo videos, product review videos, video blogs, video ads and much more. Content Mars is best for brands and influencers looking for a dedicated team to provide hands-on assistance to grow their brand, leads, and revenue through video marketing.