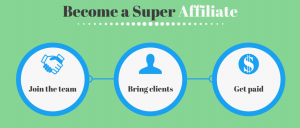 Do you have networking skills? Looking to work on your own time, wherever you want, whenever you want and earn money? This is your chance.
Become an affiliate at Think Expand and earn money anytime you want to.
No need to wait for the end of the month to receive payment. We pay bi-monthly for all services delivered via local and international payment mediums like PayPal, Bank Transfer & Mobile Money Transfer.
We charge GHS 40.00 per page (Per page is about 500 to 600 words) and offer affiliates 5% on every deal. 

What do you need?
Networking skills.

Senior High Educational qualification.

Proficient in the English language.

Laptop/Smartphone with an internet connection.

Ability to persuade and convince people.
Fill the form below to join the affiliate network.