As someone who works in the construction industry; practical work is the main focus. However, in today's digital age, having a solid online presence is crucial for any business to succeed, even in Ghana. While word-of-mouth recommendations may bring in most of your customers, having an outstanding website can still make a significant difference.
Learn About Developing your Construction Business Website
Creating a high-quality website should be a top priority if you want to maximise your marketing efforts this year. With a website, you can easily direct potential clients to your online platform and leave a lasting impression. This article will discuss the essential components necessary to make your construction website stand out.
Key Elements of a Website Design for Construction Companies in Ghana
When creating a website for your construction business, it's important to include certain features that will set you apart from the competition. Some key elements to consider include:
When building your website, ensure it is responsive and mobile-friendly. With more and more people using their mobile devices to browse the internet, having a website that adapts seamlessly to different screen sizes is crucial.
About Page

Website Design for Construction Company in Ghana Including a page that explains your services and the processes involved can help answer any questions a client may have before they reach out for a quote. This can also help establish your credibility as a reliable and professional business.
A User-Friendly Navigation
To ensure a positive user experience for your website visitors, make it easy for them to find the information they need quickly. Intuitive menus and clear categorisation of services help to accomplish this and encourage potential clients to explore further. By providing a user-friendly, interface and easy access to your services, you create a positive impression and establish trust with your audience.
On this page, showcase your best construction projects. These projects are what is going to sell your company to potential clients. The client wants lots of beautiful, professionally shot images and a descriptive explanation.
Engaging visuals play a significant role in capturing the attention of visitors. Include high-quality photos and videos of completed projects to showcase your capabilities. Visual evidence of your work builds trust and credibility.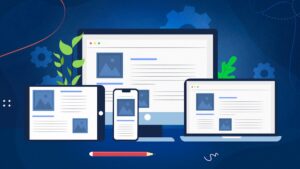 Client testimonials have this incredible power to influence potential customers by providing social proof. When satisfied clients share their positive experiences with your services, it creates a ripple effect, inspiring others to choose you.
Building a trustworthy reputation for your business is essential; creating helpful content can make all the difference. A dedicated content section on your website that offers guidance to clients throughout the building process is an excellent way to do this.
Conclusion
A strong web presence is essential for construction and building firms. Clients rely on the internet for information, and a helpful website can lead to more business opportunities.
Our company prioritizes a solid web presence and can assist with website design. Contact Think Expand Limited for expert help.
[HLS_CRM_FORM id=21bd126166d366a0b871e27a992e1ddb]