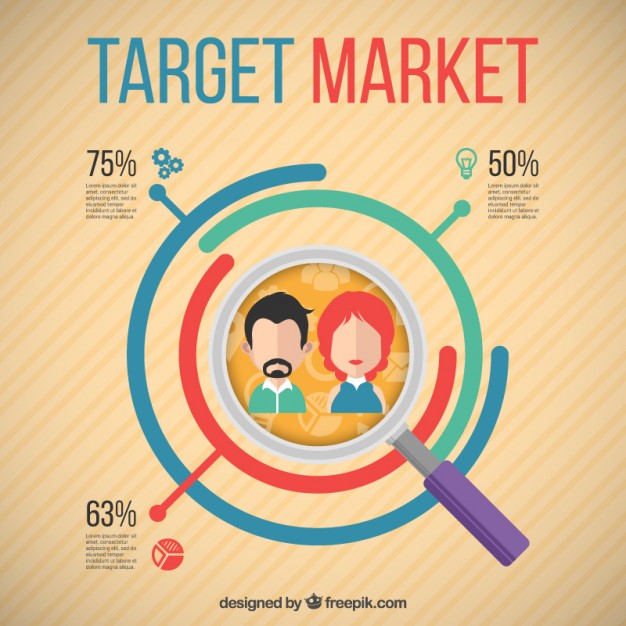 Customers are what sustains and maintains every business.
It is the customer that pays the workers, business operations and the acquirement of all business assets. So it is crucial to identify and select the right target market for your business.
Business is not about money—it's about people.
It is about serving people, meeting their needs and solving their problems. When the business meets the needs of the customers, satisfy their desires and solves their problems, it will make more money and achieve high level of profitability.
So you have to identify and select the right target market you want to serve.
You can't just serve everybody.
You have to serve the right people—the right group of people—who can get the most benefit from your products and services. When you become successful at serving this group of people, then your business will become successful!
By focusing your energies and resources on a specific group of people, you can position your brand message, products and services to attract them and do business with them. It will also enable you to develop specific product packages for each target market category.
To identity and select the right target market for your business, you have to look at three factors:
Your current customers

Your product features and benefits

Your business objectives
Your Current Customers
It's amazing some business owners have no clue who their customer is. They think they know their customers. But in reality, they don't know their current customer base.
So in mapping a marketing strategy for your business, the first thing you want to look at is your current customer base. Look for common trends and interests among them. You will notice the kind, type and group of people your business is currently attracting.
Identify the psychographic, demographic and geographic profile of your current customer base. Find out who they are, why they buy your products and where the can be found offline/online.
By understanding these piercing insights about your customers, you will really know the reason get attracted and buy you products and services. It will also enable you to restructure your offering to meet their needs to the apex.
If you don't like the kind of people your business is attracting into the sales funnel, you know what to do!
Re-brand your business, develop a new marketing strategy and re-position your business to attract the right target market you want for your business.
Your Product Features & Benefits
Your product is what your customers buy!
The features and benefits of your product has a way of influencing and attracting  a particular kind and type of customer into your business. What does your business enable he customers to do? What do your products achieve in the customers life?
In product design, there are two things:
Product features

Product benefits
The product features defines the capabilities and specifications of the product. It includes the packaging, content, delivery, after sale services, support services and others. To identify and select the right target market for your business, you must make sure the features attract the market.
The benefits of the product are simply what the customer gets from using or by using your product. In answers the customers question of "What's in for me?" It tells the customers how the product will solve his/her problems, satisfy his/her needs and fill his/her needs.
In product development, you must first start with the benefits.
You must start with asking yourself what incredible benefits your customers will get from using your products and services. What difference will your products make in their life? What impact will your products make in their lives?
Then you go back to design the product with features that will provide that benefit to the specific group of customers—so that the product will be successful in the marketplace.
Your Business Objectives
Your business objectives centers around why you're in business—your primary mission—serving people and filling their needs. It also entails your secondary mission for being in business—your profits, revenue and financial profitability.
So identify and select the right target market for your business, you must find the best target market base that can best help you achieve your primary and business mission.
For example if you have a small cleaning company and your primary mission is to keep corporate offices clean and tidy, making an annual turnover of $ 80,000.00, you must ask yourself which segment of the market will best understand, be attracted and pay for my services to achieve that goal.
Once you find that you must segment your market. You must focus on specific market in the corporate offices niche that you will provide your services for. You must also go for the gold.
Segment Your Market
You must analyze your current customers, products/services and business objective and use that insight to segment your market. Your market segment then is the specific group of customers that will most benefit from your products and services and will enable you to achieve your business objectives.
Your business objectives, current customers and product specification will then define and select the right target market for your business. Your target market segment will have similar interest, trends and capabilities.
Here at Think Expand, we focus our energies on targeting micro and small scale businesses.
We focus on helping micro business with about 1 to 10 workers and annual turnover up to $ 10,000.00 by developing a web presence for their business. We develop their website, social profiles, corporate custom emails and their LinkedIn profiles. We also provide business plan and marketing plan consulting services to them as well.
We target our blogging, content writing and social media management services to small businesses with up to 50 staff and annual turnover up to $ 200,000.  We help them to grow their brand online through our content management services.
We focus on delivering our services to clients in the following countries: Ghana, Nigeria, Kenya, South Africa, Egypt, Zambia, UK, USA, Australia, Canada, Philippines and others. Our target customers understand the digital revolution and they contact us to help them with their digital marketing services.
Would you want us to help your company? We're free, relaxed and flexible to work with. You can also share your comments on how to identify and select the right target market for a business.
Anyway, if you need assistance to develop a marketing plan, create a website, create web contents,  social media marketing, blogging marketing and email marketing for your business don't forget our address.
We create high value, converting and compelling marketing copies for all your digital marketing campaigns. You can also check our catalogue of content writing services below.
Talk To Us
Email: info@expandgh.com
Tel: +233 2228133
Mobile: +233 548334499
WhatsApp: +233 548334499
Subscribe for business development and digital marketing insights, tips and strategies to grow your business.                                 
---